Extreme temperatures have a knack for relegating many of us to style uniforms. In order to brave New York City's coldest days, I often forgo capital "F" fashion and gravitate toward the chunkiest knitwear I can find. That said, it is possible to circulate the more fanciful items in your wardrobe and still maintain warmth—if worn correctly. This week, we're talking about dresses, honing in on the way stylish women don the feminine staple in the winter. The results all stem from the same foundation: layers. Whether they are in the form of slouchy knitwear or slinky turtlenecks, here are three outfit equations to keep your dresses in rotation all winter long.
Crochet Maxi + Slouchy Cardigan + Socks
Right photo: Courtesy of Instagram/@barbarasantiago.r
When in doubt, pile on the knits. Bárbara Santiago shows us that crochet can, in fact, be worn throughout the colder months, if styled correctly. She's opted for a neutral cardigan, lug-sole loafers, and a pop of color in the form of cherry red socks.
Floral Midi + Leather Trench + Turtleneck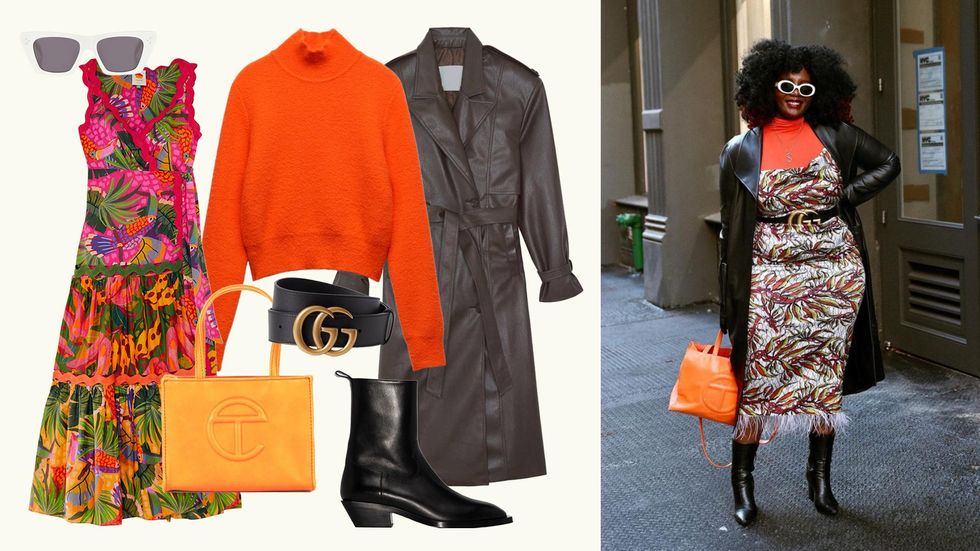 Right photo: Courtesy of Instagram/@simimoonlight
Breath new life into that summery floral dress by mixing it with a leather trench and heavier booties. A bright turtleneck serves as the meeting point between these seasonally polarized essentials.
Prairie Dress + Sweater Vest + Tights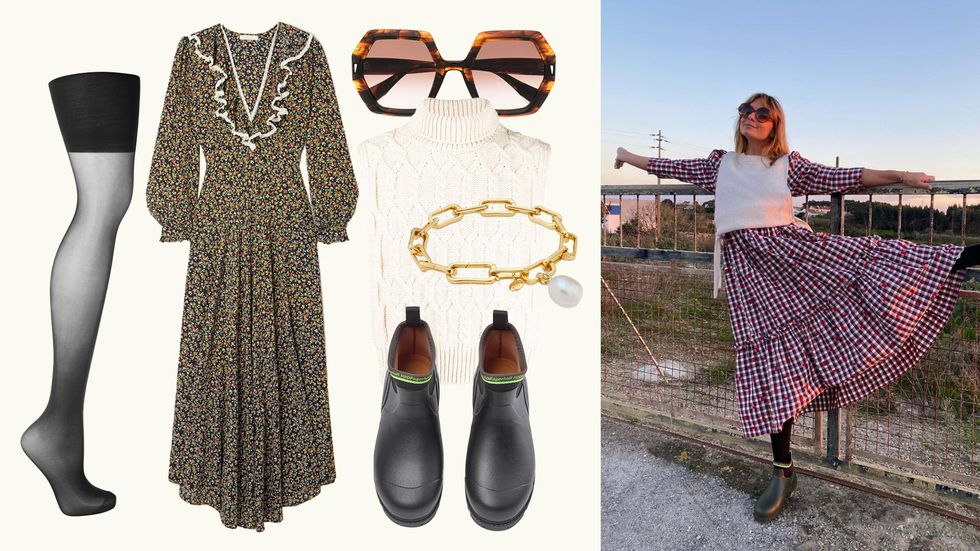 Right photo: Courtesy of Instagram/@mafaldapatricio
To carry your favorite prairie dress into the colder months, add a sweater vest or knit bib—the perfect complement to the overall kitschy feel. Tights and all-weather boots keep this particular look rooted firmly in practicality.
window.REBELMOUSE_ACTIVE_TASKS_QUEUE.push(function(){
var makeMonitor = (getStatus, cb, delay) => delay = delay ;
var leftArrowCarrousel = makeMonitor( function () return document.querySelector( ".shop-sidebar.shop-posts .posts-wrapper .slick-next" ); , function (res) res.addEventListener("click", () => gtag("event", "Left Arrow Click", event_category: "Shopping Module", event_label: "Previous product at carrousel", ); );
);
leftArrowCarrousel.start();
var rightArrowCarrousel = makeMonitor( function () return document.querySelector( ".shop-sidebar.shop-posts .posts-wrapper .slick-prev" ); , function (res) res.addEventListener("click", () => gtag("event", "Right Arrow Click", event_category: "Shopping Module", event_label: "Next product at carrousel", ); );
);
rightArrowCarrousel.start();
var buyButton = makeMonitor( function () return document.querySelectorAll( ".shop-sidebar.shop-posts .posts-wrapper .widget__product-buy-link-btn" ); , function (res) { for (let button of res) button.addEventListener("click", () => gtag("event", "Buy button click", event_category: "Shopping Module", event_label: `$button["href"]`, ); );
} );
buyButton.start();
var imageShopp = makeMonitor( function () return document.querySelectorAll( ".shop-sidebar.shop-posts .posts-wrapper .widget__head a" ); , function (res) { for (let image of res) image.addEventListener("click", () => gtag("event", "Image click", event_category: "Shopping Module", event_label: `$image["href"]`, ); );
} );
imageShopp.start();
var productTitle = makeMonitor( function () return document.querySelectorAll( ".shop-sidebar.shop-posts .posts-wrapper .widget__headline .widget__headline-text" ); , function (res) { for (let product of res) product.addEventListener("click", () => gtag("event", "Product title click", event_category: "Shopping Module", event_label: `$product["href"]`, ); );
} );
productTitle.start();
});
window.REBELMOUSE_ACTIVE_TASKS_QUEUE.push(function()
window.REBELMOUSE_STDLIB.loadExternalScript("https://s.skimresources.com/js/150311X1615657.skimlinks.js", function()
);
);
window.REBELMOUSE_ACTIVE_TASKS_QUEUE.push(function()
!function(f,b,e,v,n,t,s)if(f.fbq)return;n=f.fbq=function()n.callMethod?n.callMethod.apply(n,arguments):n.queue.push(arguments);if(!f._fbq)f._fbq=n;n.push=n;n.loaded=!0;n.version='2.0';n.queue=[];t=b.createElement(e);t.async=!0;t.src=v;s=b.getElementsByTagName(e)[0];s.parentNode.insertBefore(t,s)(window, document,'script','https://connect.facebook.net/en_US/fbevents.js');fbq('init', '1248680838922690');fbq('track', 'PageView');
);
window.REBELMOUSE_ACTIVE_TASKS_QUEUE.push(function()
window.REBELMOUSE_STDLIB.onElementInViewport( threshold: 400, selector: "video", oneTime: true, onIntersect: function(entry) var element = entry.target; element.setAttribute("allow","autoplay"); element.loop = true; element.muted = true; element.autoplay = true; element.setAttribute("playsinline","true"); //element.controls = false; element.play();
);
);



Source link