Whenever I'm feeling less than great, there's no other product that gives me a confidence bump the way red lipstick does. It's an instant pick-me-up, a makeup mood-booster if you will. The shade is a classic for a reason.
The thing about red lipsticks is that there are so many of them. There's cherry reds, raspberries, brick red…the options are endless. But that also means it's easy to feel overwhelmed. How do you find the right shade for you? How should you apply it so you don't have to sneak looks at your iPhone camera every 10 minutes to check whether or not you need a touch-up? It's not an easy task, so I reached out to celebrity makeup artist Nick Barose to give us the tips needed to find the perfect red and the steps to take in order to make it last.
Finding Your Shade of Red
According to Barose, the shade and how the lipstick looks in the packaging isn't the only thing to consider when choosing a red lip—you want to take the texture and finish into consideration, as well. "[A] matte red will look more intense, dramatic, and bold than a red that has a sheen in it, even if they're the exact same shade," says Barose. Barose recommends deciding what look you're aiming for before choosing a lipstick. If you want a dramatic makeup look, opt for a matte finish. In the mood for a color that's a bit more light and fresh? Go for a lipstick with a sheen or satin texture, says Barose.
Red lipstick is meant to stand out, says Barose, so don't feel like you have to step to a specific hue in order for it to look "natural." "That said, if your skin has more warmth, then go for warmer reds with some orangey tones to it," he adds. "If you have a cooler undertone, then go with a red with some blue in it.
"Next, decide how 'bright' or deep you want the shade to be," says Barose. "Brighter red stands out more while a deeper red, while still bold, looks more understated."
For Deep and Dark Skin Tones:
"For deeper skin tones, plummy reds and reds with blue undertones look best. On darker skin, reds that look darker in the tube will translate brighter, lighter once you put it on, so keep that in mind. Reds that look very bright in the tube will read too light on darker skin." —Nick Barose
Try: Lancôme L'Absolu Rouge Drama Matte Lipstick in Mademoiselle Lupita
For Medium Skin Tones with Warm Undertones:
"Medium skin with warm undertones looks best with warm orangey red. Just make sure it doesn't lean too orange—it'll read coral once you put it on." —NB
Try: Armani Lip Power Long Lasting Satin Lipstick in 301 Friendly
For Olive Skin Tones:
"For olive skin, try warm brick red. The rich and warm tones work to enhance your skin tone." —NB
Try: L'Oréal Paris Colour Riche Original Satin Lipstick in 297 Red Passion
For Light Skin Tones:
"With lighter skin tones, a cherry or pinky red looks best. Brighter reds also contrast beautifully. Make sure the red is not too deep—it will read more plum on the skin and that's a different feeling than a true red." —NB
Try: Lancôme L'Absolu Rouge Cream Lipstick in 143 Rouge Badaboum
Prepping Your Lips Pre-Application
When you swipe on a red color, the focus is going to be on your lips, so you want to make sure you have a solid foundation to avoid patchy spots or flaky, uneven lips. Barose recommends giving your pout a good exfoliating session to buff away dead skin: you can either use a traditional lip scrub or use a washcloth. "I love slathering on Kiehl's Lip Balm and letting it absorb for a bit," says Barose. "Then with a warm washcloth, I gently scrub it off. This way you get rid of dry patches and excess lip balm, so it won't change the texture of lipstick you're using."
Lip liner isn't always a must when you're wearing lipstick. According to Barose, it depends on what look you're going for. But it does help to add staying power to your lipstick. "Ideally, you would use a lip liner in the same shade of red or something close," says Barose. If you don't have an exact match, Barose recommends opting for a shade that's just a little bit darker than the lipstick, so "your lips are defined without looking too severe." Another option is clear lip liner: "It's a great way to ensure your red lipstick won't feather or bleed."
How to Swipe on the Lipstick
Tip #1: Start from the center of your lips
When you're applying lipstick, Barose recommends starting from the center of your pout before moving outwards toward each corner. "By starting from the center, it allows you to control balance and symmetry," he says. "I find that if you start from one corner to the other, it might look lopsided."
Tip #2: Don't fill in the corners
You might be tempted to fill in every inch of your lip, but resist it: If you go all the way into the corners with the red lipstick, it might start to bleed, says Barose. "Leave a bit of room there, then fill it with a longwearing lip pencil," he says. "This way everything will stay where it's supposed to."
Tip #3: Apply two coats
Barose prefers to apply red lipstick directly from the tube "because it deposits the pigment right away without having to layer too much." He sticks to two coats, max, when applying: "Layering lipstick too much can make it look streaky, messy, and caked on." After swiping on the lipstick, Barose likes to use a lip brush "to do detail work like defining the edges and filling in the corners."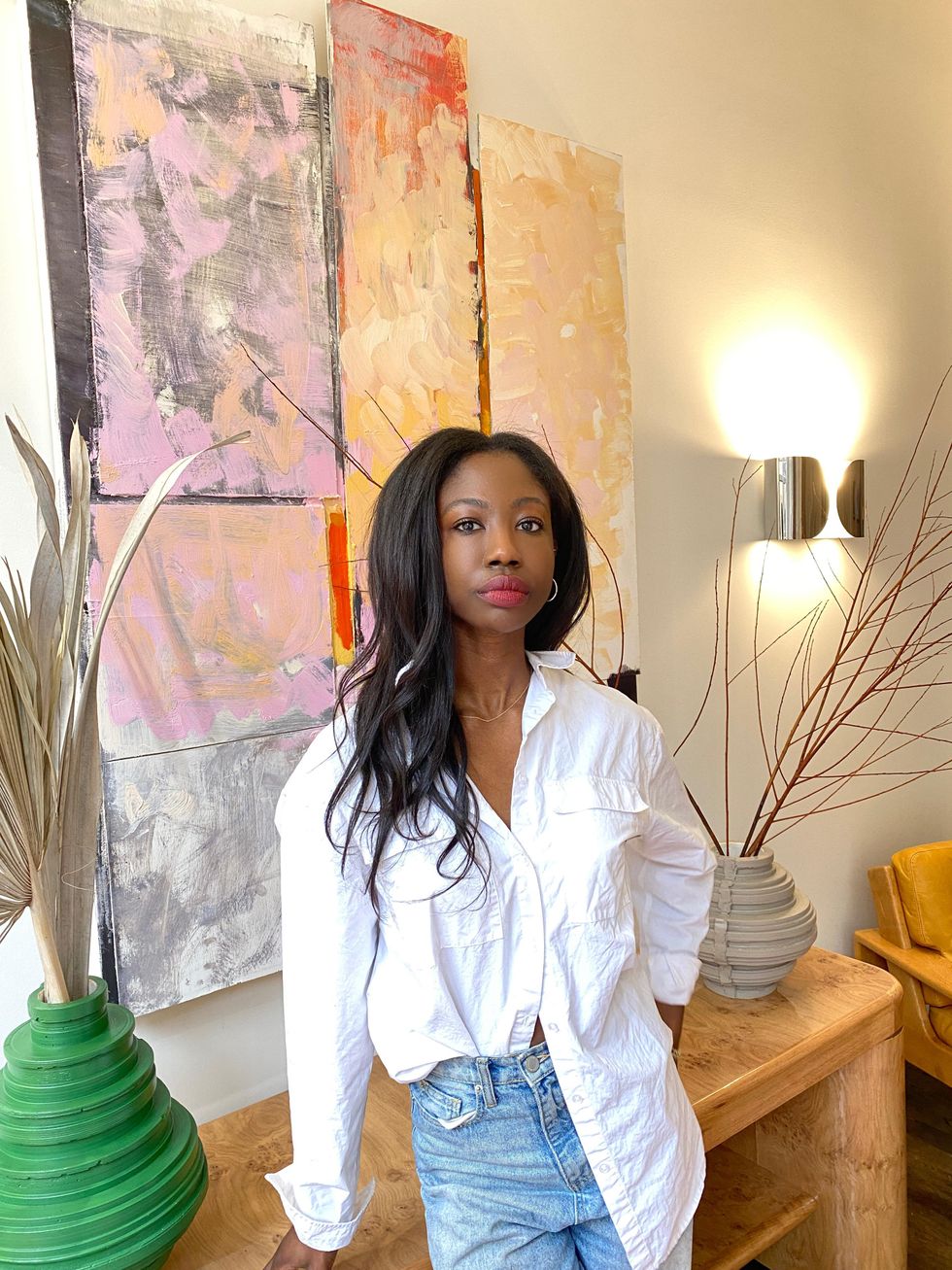 I decided to take Barose's tips for a test drive. No matter how much water I drink, my lips seem to always be dry and slightly flaky, so I rubbed a lip scrub onto my lips to slough away dead skin and even everything out. Next, I tapped a lightweight and non-sticky lip balm onto my lips for a smooth and hydrated canvas. Because you don't want your lip color to slip and slide once you've applied it, be sure to dab off any excess product.
Then, it was lip liner time. Even though it's technically not a necessary step in the application process, I find that filling in my lip before swiping on a lip color is a surefire way to prolong pigment. I went with About-face Matte Fix Lip Pencil to anchor the lipstick.
My lipstick of choice was Lancôme L'Absolu Rouge Drama Matte Lipstick in Mademoiselle Lupita, a classic matte red. (Yes, it's named after that Lupita.) Starting from the center of my pout, I swiped it on and filled in the corner of my lips with the lip pencil to create an even-looking finish.
I've tried a lot of reds in my day, but right now, this is my go-to. The application process was a breeze—the bullet was smooth and easy to apply. And even though the word "dry" is typically synonymous with the word "matte," I found the product extremely comfortable to wear. In fact, thanks to the lightweight formula, I usually forgot that I was wearing lipstick unless someone complimented the shade or I caught a glimpse of it in the mirror. The pigment is also in a class of its own; it's so rich, it didn't take a ton of product to fill in my lips. Plus, it really does look like velvet, leaving behind a natural yet striking coat on your lips for hours—seriously, it lasted me through breakfast (which included a flaky croissant) and lunch (a yummy grain bowl). And once it started to fade toward the end of the day, it did so evenly without leaving behind random patches.
For me, I think of a red lip as the ultimate statement accessory, so I keep the rest of my makeup (and my outfit) minimal. I paired it with Tarte Sea Flex Power Concealer, lined my eyes with Sisley Paris Phyto-Khol Star Matte Eyeliner Pencil in Matte Onyx, and swiped on Ami Colé Lash-Amplifying Mascara to round out the look without overpowering the red lip.
window.REBELMOUSE_ACTIVE_TASKS_QUEUE.push(function(){
var makeMonitor = (getStatus, cb, delay) => 100; var monitor = () => var time = +new Date(); var status = getStatus(); if (status) return cb(status); else if (!stopMonitor && +new Date() - time < 30 * 60 * 1000) monitorId = setTimeout(monitor, delay); else cb(false); , cancel = () => stopMonitor = true; clearInterval(monitorId); ; let monitorId, stopMonitor = false; return start: monitor, cancel: cancel, ; ;
var leftArrowCarrousel = makeMonitor( function () return document.querySelector( ".shop-sidebar.shop-posts .posts-wrapper .slick-next" ); , function (res) res.addEventListener("click", () => gtag("event", "Left Arrow Click", event_category: "Shopping Module", event_label: "Previous product at carrousel", ); );
);
leftArrowCarrousel.start();
var rightArrowCarrousel = makeMonitor( function () return document.querySelector( ".shop-sidebar.shop-posts .posts-wrapper .slick-prev" ); , function (res) res.addEventListener("click", () => gtag("event", "Right Arrow Click", event_category: "Shopping Module", event_label: "Next product at carrousel", ); );
);
rightArrowCarrousel.start();
var buyButton = makeMonitor( function () return document.querySelectorAll( ".shop-sidebar.shop-posts .posts-wrapper .widget__product-buy-link-btn" ); , function (res) { for (let button of res) button.addEventListener("click", () => gtag("event", "Buy button click", event_category: "Shopping Module", event_label: `$button["href"]`, ); );
} );
buyButton.start();
var imageShopp = makeMonitor( function () return document.querySelectorAll( ".shop-sidebar.shop-posts .posts-wrapper .widget__head a" ); , function (res) { for (let image of res) image.addEventListener("click", () => gtag("event", "Image click", event_category: "Shopping Module", event_label: `$image["href"]`, ); );
} );
imageShopp.start();
var productTitle = makeMonitor( function () return document.querySelectorAll( ".shop-sidebar.shop-posts .posts-wrapper .widget__headline .widget__headline-text" ); , function (res) { for (let product of res) product.addEventListener("click", () => gtag("event", "Product title click", event_category: "Shopping Module", event_label: `$product["href"]`, ); );
} );
productTitle.start();
});
window.REBELMOUSE_ACTIVE_TASKS_QUEUE.push(function()
window.REBELMOUSE_STDLIB.loadExternalScript("https://s.skimresources.com/js/150311X1615657.skimlinks.js", function()
);
);
window.REBELMOUSE_ACTIVE_TASKS_QUEUE.push(function()
!function(f,b,e,v,n,t,s)if(f.fbq)return;n=f.fbq=function()n.callMethod?n.callMethod.apply(n,arguments):n.queue.push(arguments);if(!f._fbq)f._fbq=n;n.push=n;n.loaded=!0;n.version='2.0';n.queue=[];t=b.createElement(e);t.async=!0;t.src=v;s=b.getElementsByTagName(e)[0];s.parentNode.insertBefore(t,s)(window, document,'script','https://connect.facebook.net/en_US/fbevents.js');fbq('init', '1248680838922690');fbq('track', 'PageView');
);
window.REBELMOUSE_ACTIVE_TASKS_QUEUE.push(function()
window.REBELMOUSE_STDLIB.onElementInViewport( threshold: 400, selector: "video", oneTime: true, onIntersect: function(entry) var element = entry.target; element.setAttribute("allow","autoplay"); element.loop = true; element.muted = true; element.autoplay = true; element.setAttribute("playsinline","true"); //element.controls = false; element.play();
);
);



Source link