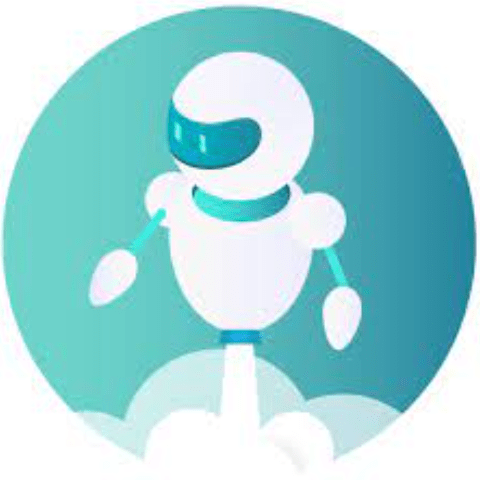 In the second article of my series covering small unknown alt coins I present UpBots (UBXT-USD). Traders today are relying more and more on program trading and trading bots for fast trades and arbitrage inefficiencies. UpBots has created the most unique (and I believe to be first to market) option out there for traders. UpBots only charges you for trades that are closed out for a profit.
AUTHOR'S NOTE: While reading this article, it is of paramount concern that you realize that UpBots in a VERY small market cap nanocrypto. The current market cap of the token is under $10 million. Also remember to review the possible negatives I have listed near the end of the article that may negatively impact any investment.
So what is UpBots and what do they do?
UpBots is a user-friendly crypto trading platform that allows users to connect the best tools and strategies to provide an enjoyable trading experience where users can trade hands free either with trading bots or manually. Users can stake their tokens and track portfolio. UpBots provides users with a single trading interface that can be used with all crypto exchanges. It also provides users a trading overview of their entire trading position over all exchanges. A variety of trading bots are offered depending on your trading strategy. For experienced traders, the ability to create your own trading bot is also offered. For those that find all of this to be a new and confusing arena, UpBots has created an informative educational tool that covers topics ranging from "what is day trading" to "what is Web 3".
To get a 100% in depth review of UpBots, I suggest you read their whitepaper. In it, the business model is explained in detail as is how the UBXT token supports the business and how it is the speculative investment vehicle for UpBots.
In the meantime, I will provide a few highlights via screenshots from the whitepaper:
First and most impressive is that the total token burn allocated is over 50% of all tokens in circulation. The token burn is a 3-tiered approach: 1) Every time a performance fee is paid 2) every year based on income 3) based on UBXT vault revenues.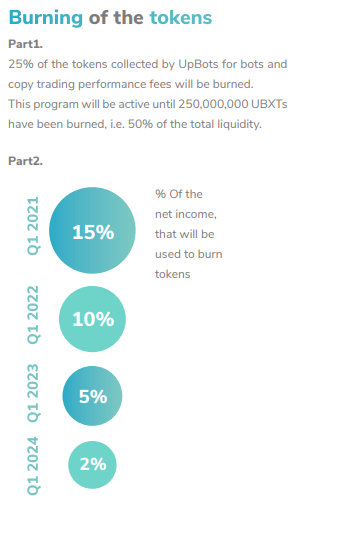 Second is the willingness to reward token holders that invest for the long haul. This loyalty program has turned into the current staking program. The staking program currently yields a double-digit APR.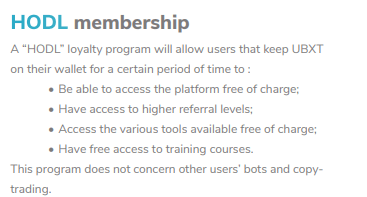 The burn has been rapid. As of February 3, 2022, per this UpBots twitter screen grab, almost 920,000 UBXT tokens have been burned.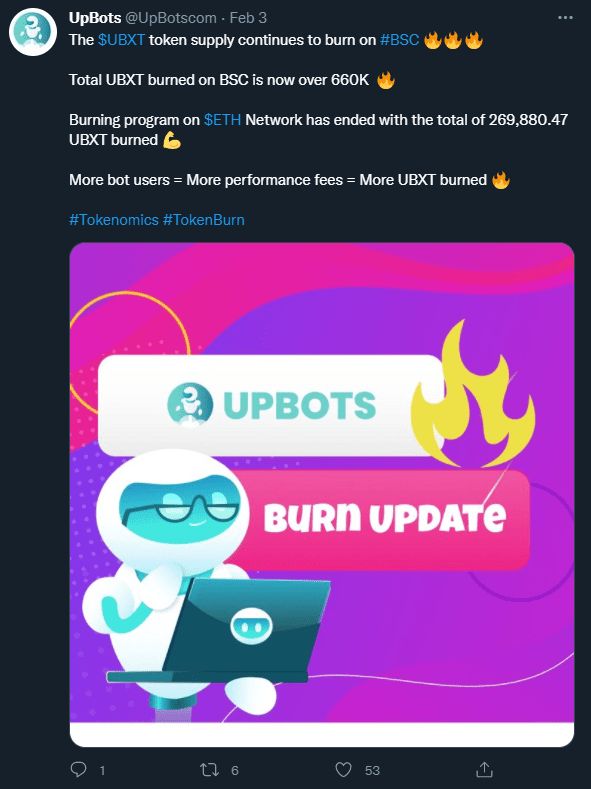 Third is how the UBXT token is used to support the project.
While everything I have discussed so far is interesting, it does not really cover why UpBots is a good investment. So without further ado, here is a little meat to chew on…
The co-founders are Ben Duval and Julien Quertain. Duval has been active in cryptos since 2014, as a trader and an entrepreneur with four companies. His LinkedIn profile can be found here. Quertain worked as trader for BNP, KBC and other banks. He is an expert in risk management. His LinkedIn profile can be found here.
To view bios on all principal team members, you can read the UpBots whitepaper.
What UBXT proposes is very different. While most services work on the basis of an algo rental system, UBXT has chosen the voice of performance fees. In other words, not to charge users until they make a profit. This is fairer and a unique way to attract a new type of user.
Secondly, the interface is also quite unique in its style and use. UBXT wanted to develop something simple and with SuperBots, and it goes even further in simplicity thanks to DeFi. In this respect, SuperBots is the very first service of its kind, with a protocol that is created especially for UBXT vaults. It enables "automatic trading" in the DeFi universe.
UpBots officially launched the service only 4 months ago, so it's still very new, and yet they seem to be attracting hundreds of new registrants every day per their Twitter feed. They also expanded into the Asian market in December 2021 per this article. The groundwork seems to be laid out for a global launch.
Also from another twitter feed is this post sharing some news about new users being signed up. It seems that the process of gaining new users is finally paying off.
The UpBots strategy seems to be to 1) focus UpBots for newcomers and 2) SuperBots for DeFi enthusiasts, and start creating a real community around UBXT related products.
UpBots recently launched the "referral program" which allows you to share a link with your friends and receive up to 10% of all the fees they have paid. This encourages word of mouth and long-term recognition.
UpBots has also created SuperBots. SuperBots is the evolution of UpBots. It is geared towards the more sophisticated trader and it will be the framework allowing for future offerings. SuperBots is explained in this article, but for those that want a quick review, it has four elements:
Investing
Farming (staking)
Play (coming soon)
Games and NFTs are also planned for the future. As of today, we only know that they are planned. In-depth blueprints have not been finalized or made public.
Investing in UpBots
From an investment standpoint, UBXT is about as small as they get. You are truly getting at the ground floor. UpBots is currently down 90% from the all-time high seen during the early 2021 alt cycle bubble despite having an actual working business model product.
In terms of buying the UpBots coin, the coin has worldwide access to crypto markets. UBXT is traded on KuCoin.com (for U.S. citizens), as well as Uniswap, PancakeSwap, SushiSwap and FTX (in the international markets).
The current circulating supply of UBXT tokens is 410,868,205 (and shrinking due to token burns), with a maximum token supply of 499,730,120 million as shown on CoinMarketCap.com. The fully diluted market cap is currently only $7 million.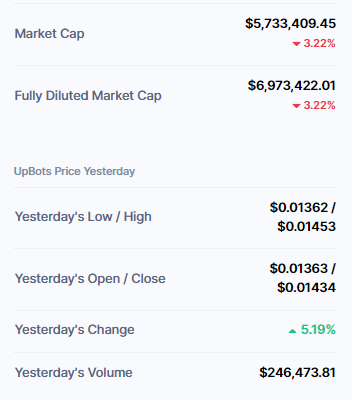 Also of note is the trading volume. While not the type of volume that will rank it in the top 10 anywhere, there is more than enough volume to execute a trade. With a current price of $0.0139 and a 24-hour trade volume of $246,473 that equates to over 17.5 million tokens traded in the past 24 hours. As seen below, the typical book has a spread of 0.00089 which converts to $0.89 on a $1,000 trade. While there can be guarantee that the trade spread will be stable, this is a typical spread.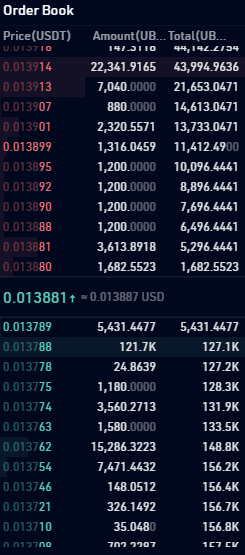 At the present time, per etherscan.io, there are only 1,157 token holders.
I would be remiss if I did not mention that there are negatives that need to be mentioned. First and foremost is that while UpBots is the first token to have a model that only charges for profitable trades, there is no guarantee that in the future another coin will repeat the business model. UpBots addresses the current competition in the marketplace in this whitepaper analysis:
While competition does not seem to be a major issue now, the future holds no guarantees. Also of concern is when withdrawing tokens from the platform. UpBots clearly states that withdrawals may take 48 hours to complete. There is always a risk associated with having no access to your coins for 48 hours. Finally, there is uncertainty surrounding the entire crypto coin trading market. As is often seen in all markets, trends and fads come and go. Even if UpBots has a successful business, there is no guarantee that an investor in UBXT will see a profit.
Some final thoughts
When most people think cryptocurrencies, they think of the biggest or most popular coins such as Bitcoin (BTC-USD), Ethereum (ETH-USD), Dogecoin (DOGE-USD), SHIBA INU (SHIB-USD) etc… The problem with those investments is that they have already seen returns of thousands of percents. My personal investment strategy is to look for small nanocap tokens and research them. You can research the whitepaper for any token and you can also view trader chat rooms in sites such as Reddit and Telegram for further insights into investing in UBXT or any other coin. At the end of the day, you need to find your own comfort lever pertaining to a risk/reward model or trade that suits you best.
As I write this, as I usually do, I mention the deep dives that the popular coins have experienced. Bitcoin, Ethereum and Litecoin (LTC-USD) are all down over 40% from their highs. In the start of 2021, people were proclaiming that Bitcoin would end 2021 at $100,000. In reality, it closed the year under $40,000. The Ethereum claims were for $10,000… it ended 2021 under $3,000. While both have seen explosive rallies that any stock trader can only dream about, the hype of the coin rallies faded away and so did the coin prices. Likewise, the news seems to be full of stories about people buying $10,000 worth of SHIBA INU or Dogecoin and becoming millionaires in less than one year. People now expect these returns, but the markets rarely give you what the masses expect. The easy money has been made in the well-known crypto coins. In my opinion, the real money is made doing research and finding investments that have yet to be discovered. I think UpBots is one of them.
For this reason, I have chosen to invest in UBXT. A small token no one knows about yet that I feel is full of potential.